Pink and fuzzy bananas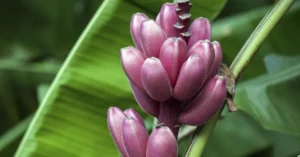 Pink, fuzzy bananas are real. Pink, fuzzy bananas that contain hard seeds are mostly grown for decoration but when eaten are sweet and soft. Even the U.S. Department of Agricultural recognizes one of their nicknames: hairy bananas.
The Twitter account Unbelievable Facts highlighted the existence of this fruit, posting the below-displayed image and text that promoted not only the bananas' colour and texture, but also its purpose.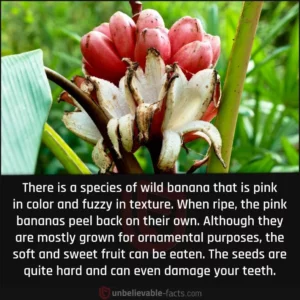 Next, there's another post's assertions about the banana's appearance: that it's pink, fuzzy, and peels on its own.
These are true, according to an arm of the Department of Horticultural Science at North Carolina State University.
Nicknamed the "hairy banana" or "pink velvet banana," the fruit (scientific name: Musa velutina) belongs to the banana family of plants, Musaceae and produces fruits that are about three inches long, pink, and fuzzy. "They peel back when ripe," according to the plant's profile in a database operated by the university.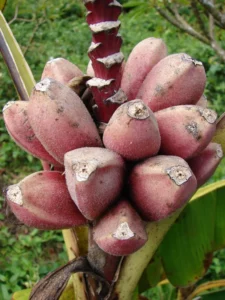 It is also true that the plants are mostly grown for decoration, rather than for eating, according to the profile, which indeed described them as "ornamental" and "showy."
However, if someone did try to eat the bananas, they would indeed taste a soft, sweet fruit with hard seeds, as the post claimed. "Fruits have soft, sweet flesh that can be eaten but the numerous seeds are very hard," the profile said.
Likewise, "blue java bananas" — which have an outer blue skin and taste like vanilla ice cream — belong to the same family of plants.
"As an Amazon Associate, I earn from qualifying purchases"
Dr.Fone V13
One-Stop Complete Mobile Solution
Wondershare Recoverit
Data Recovery
Exclusive Education Savings
for Wondershare