"What It Is Like To Have No Internet Connection?"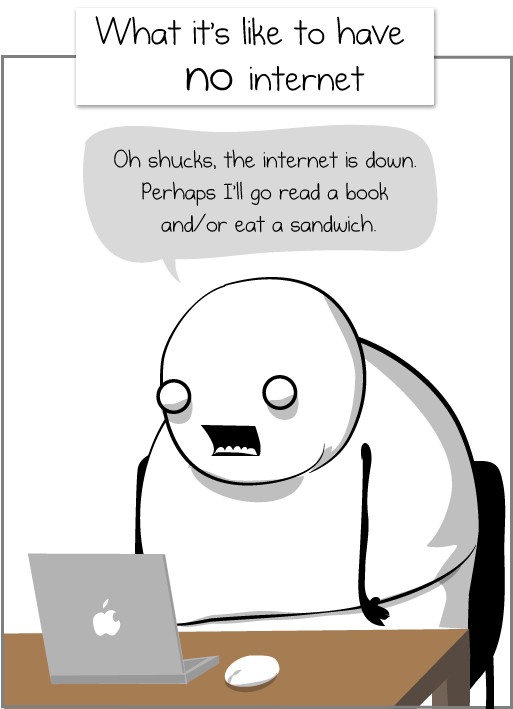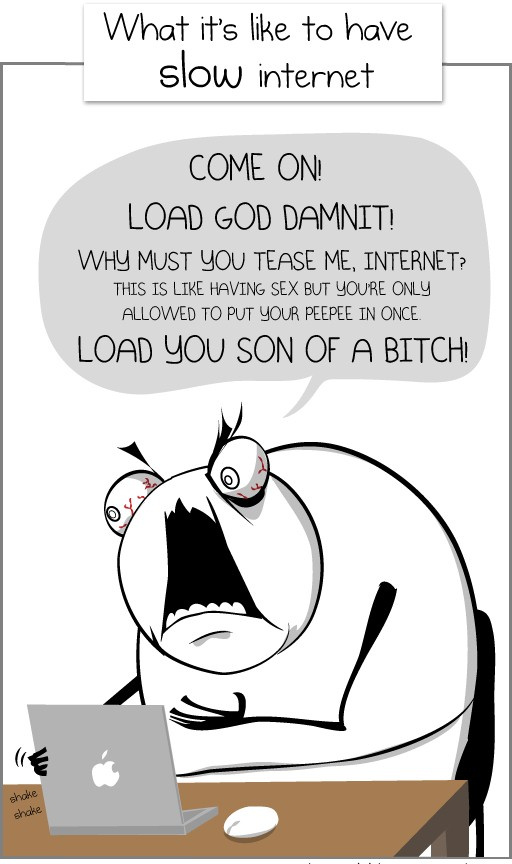 I have been a little silence here lately cos' I switched off my Internet Connection
for a couple of days. I was curious, what it would be like to have no internet. It was strange at first, as I was so used to my daily work routine which somehow required Internet. I did not know what to do! So, I wrote down some ideas!
What can we do to get out from struggling, from daily work routines, get organized and feel good? Perhaps……………………………..
Take a rest – Take a walk out to breathe some fresh air and get work a little bit out of your system or even better look at all from aside to rethink your strategy, future goals and things you could change or do to get better what are you working on.
Organize, clean up your workspace – While we are working hard, we are creating mess around us and slowly it's affecting our work-flow as well. Our environment changes us as well as people around you.
Organize, clean up your desktop – Sounds obvious, but you cannot imagine how much you waste time while searching through numerous folders, necessary file or image, when you could easily organize everything! Clean up desktop, create folders, move files to appropriate directories! Very helpful in daily work-flow!
Create organized schedule – In all rush you sometimes forget things you must do? Create schedule and get used to it, definitely will help to organize your daily workflow and you will feel much better, it's about organizing your life!
Watch Video Tutorials – Again, if you have video tutorials which you downloaded a while ago, but never got time to learn them! Usually in busy work-flow we forget to learn tools first, we just need to get job done, but if you continue to learn and evolve your skills, you will suddenly discover some more different ways and techniques, how to achieve necessary outcome much faster! It is amazing how much we still don't know after many years of hard work!
Read Books – I bet you have several books in your bookshelf which you always wanted to read but never got time! Now is a great time to remember about them and use your free time to do what you love to do!
Listen to relaxing music – Get relax, watch movie, listen music – you earned it! Whole life does not consist from rush, struggling from lack of time. Take your breathe slowly and enjoy self-handed free time!
Get out and start to do some sport – We spend a lot of our time in front of computer, but we should not forget about our health – it is more worth than anything! Start to play football, volleyball, swimming, run, do yoga or find out where is the nearest gym from your home! You will definitely feel better each day, I assure you!
Don't do anything! – Take a break. If you are always running and running you should enjoy something different as well – watch movie, sleep a little bit longer – don't make it as regular habit though, but from time to time it's really relaxing!
How do you enjoy and spend your free time, what you do to get out from struggling in your work, and where you find inspiration to keep on doing what  you are doing!?!
Ethernet Cable 50 Ft for Internet, Routers and Xbox 360

How to Tell If Your Cat Is Plotting to Kill You

5 Very Good Reasons to Punch a Dolphin in the Mouth (And Other Useful Guides)