Yes, this Photo of a 2023 Florida Train Derailment is Real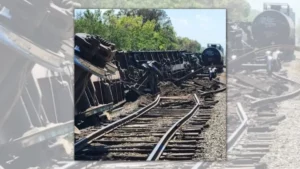 On March 1, 2023, a photo was posted on Reddit that claimed to show a train derailment in Manatee County, Florida.
"Train carrying over 30,000 gallons of propane derails in Manatee county Florida," the caption read.
Is this photo of a 2023 Florida Train Derailment is Real ?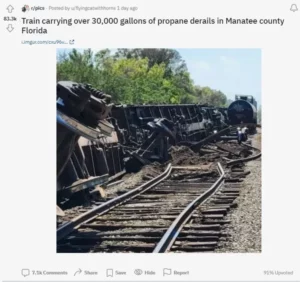 We discovered it originally posted by Brittany Muller, a journalist who works for WFLA, a Tampa broadcast station. The picture is real.
Southern Manatee Fire Rescue on scene of a 6 car train derailment near Sarasota Bradenton County line. No injuries reported. One tanker carrying 30,000 gallons of propane has rolled off the tracks. LIVE reports from scene starting at 4 on @wfla. ????: SMFR https://t.co/opWujlqFBJ pic.twitter.com/DbHWJcRZ5W

— Brittany Muller (@WFLABrittany) February 28, 2023
Claim – A photo shows an actual train derailment in Sarasota, Florida, on Feb. 28, 2023.
The train derailed the day before the photo was posted. One car was carrying 30,000 gallons of liquid propane gas, which had not leaked, according to local paper Sarasota Herald-Tribune. No injuries were reported.
We conclude that it is authentic. Several U.S. train derailments around that time — including one in East Palestine, Ohio — had people worried about the impacts they can have on their health, as well as the environment. PolitiFact reported in February 2023 that more than 1,000 train accidents happen every year in the U.S.