Ice-T tweet comparing Trump to Satan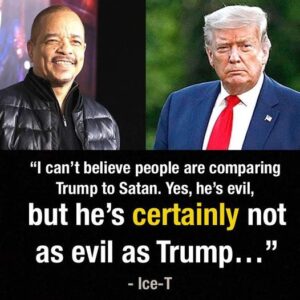 In July 2021, the Occupy Democrats Facebook page posted a meme that quoted rapper Ice-T as saying, "I can't believe people are comparing Trump to Satan. Yes, he's evil, but he's certainly not as evil as Trump."
Did Ice-T Tweet This About Comparing Trump to Satan, and has been circulating since 2020?
Ice-T did, in fact, tweet exactly those words from his verified account on Nov. 6, 2020:
I can't believe people are comparing Trump to Satan.  Yes, he's evil, but he's certainly not as evil as Trump.

— ICE T (@FINALLEVEL) November 6, 2020
And that tweet was liked by more than 120,000 Twitter users. And apparently, some other Twitter users repeated the quote verbatim, without attributing it to Ice-T.
It wasn't difficult to confirm that Ice-T was the originator of the quote, however, given that the earliest tweets containing those words on Twitter's timeline were Ice-T's, followed immediately by two tweets directly crediting him for the quote: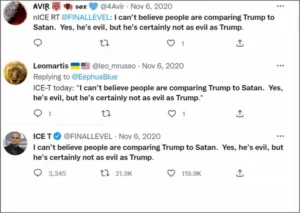 Since Ice-T was the originator of the quote, we rate this as Correct Attribution