Boris Johnson once said "Those who break the law will have nowhere to hide."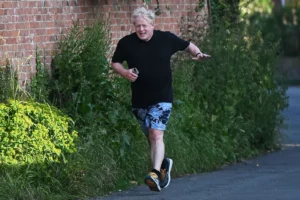 Did British Former Prime Minister Boris Johnson say the quote 'Those who break the law will have nowhere to hide'?
The alleged quote gained new resonance after U.K. Police reopened investigations into "partygate."
On July 4, 2023, British police announced that they had reopened an investigation into "lockdown-breaching government parties" after viewing footage of "Conservative Party staffers dancing and drinking at a 2020 Christmas soiree." This and other social functions during the pandemic became a controversy in the U.K. known as "partygate," as reported by The Associated Press (AP):
British police on Tuesday reopened an investigation into lockdown-breaching government parties after viewing video of Conservative Party staffers dancing and drinking at a 2020 Christmas soiree.
The "jingle and mingle" party at Conservative headquarters was held when indoor social mixing was barred under rules imposed to curb the spread of the coronavirus.
The Metropolitan Police force said it also was looking into a gathering in Parliament on Dec. 8, 2020 reportedly attended by members of the House of Commons and the House of Lords.
The announcement brought with it a rise in memes or references to an alleged Boris Johnson quote about criminals being unable to hide from the law:
Johnson failed to comply with a high court order and did not return his phone containing evidence for the COVID inquiry. We can all make reasonable assumptions why. When will Johnson be arrested? pic.twitter.com/eocEe9ErLg

— Dr Martin Opposes Gov't Corruption (@MartinRemains) July 11, 2023

The referenced quote is authentic and correctly attributed to former Prime Minister Boris Johnson. He said these words during an Interview with The Sun in the context of a 2021 government initiative to curb so-called "county line" drug trafficking — the gang-controlled flow of drugs from urban areas to rural areas, as reported by The Independent in December 2021:
Police will carry out 6,400 "disruptions" against the activities of organised criminals, targeting the road and rail networks they use while protecting vulnerable young people exploited by the gangs to run drugs for them. In an interview with The Sun On Sunday, Mr Johnson said it could include removing the passports and driving licences of offenders. […
In a statement ahead of the strategy launch, the Prime Minister said: "Drugs are a scourge on our society, fuelling violence on our streets which communities across the country are forced to endure.
"That's why, to cut crime and truly level up across the country, we must step up efforts to wipe out the vile county lines gangs who are blighting our neighbourhoods, exploiting children and ruining lives.
"Backed by record investment, the strategy we're setting out today will attack supply and break the county lines model which sees criminals profit from people's misery. Those who break the law will have nowhere to hide."
In conclusion, because Johnson said these words, we rate the claim is Correctly Attributed to him.
"As an Amazon Associate, I earn from qualifying purchases"
Dr.Fone V13
One-Stop Complete Mobile Solution
Wondershare Recoverit
Data Recovery
Exclusive Education Savings
for Wondershare