Is Bill Gates Buying Hundreds of Burned-Up Lots in Maui for 'Pennies on the Dollar'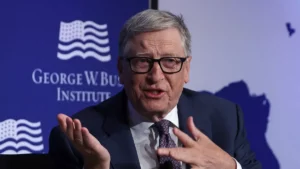 An online article authentically reported that Microsoft Co-Founder Bill Gates was buying hundreds of burned-out lots destroyed in the August 2023 Maui wildfires for "pennies on the dollar."
The Dunning-Kruger Times website on Sept. 6, 2023, published an article that said Microsoft Co-Founder Bill Gates was spending "pennies on the dollar" to buy up lots scorched by the August 2023 Maui wildfires in Hawaii, a tragedy that quickly became the deadliest U.S. wildfires in more than a century.
The headline read, "Bill Gates is Buying Hundreds of Burned Up Lots in Maui for 'Pennies on the Dollar.'"
The story said that Gates was purportedly targeting affected areas in Lahaina to execute his plans:
First, there was Oprah and The Rock and their obvious ploy to shoulder the general public with the burden of helping people while they head off to find new prime land with nothing but what used to be a home or business on it.
According to reports, Bill Gates is in on the action, buying "hundreds of burnt-out houses at pennies on the dollar."
Gates says he's hoping to grab enough parcels to have the southern end of Lahaina rezoned commercial so he can put a "global facility" in Hawaii that will "spread Microsoft and Gates Foundation services to the far east." In other words…China.
However, this item about Gates and the Maui fires was not a factual recounting of real-life events.
The Dunning-Kruger Times is under the umbrella of America's Last Line of Defense, a network of content that's described on the Times' website as containing "parody, satire, and tomfoolery."
Any users who continued to read the article to the end would have found that it poked fun at readers who believed the story was true.